Belfast gun accused Stephen McKee does not testify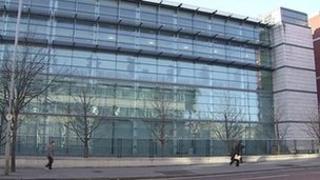 A 20-year-old man knocked out as he allegedly stopped a car while armed with an imitation gun has chosen not to give evidence in his own defence.
Stephen McKee, formerly of Ballymurphy Road, Belfast, but currently in custody, is contesting a charge of carrying an imitation gun in public.
He is alleged to have had a fake pistol when he forced the car to stop in west Belfast, terrifying children inside.
A judge reserved her judgment following a two-day hearing.
She is expected to deliver her verdict later this month.
When asked on Wednesday if he wanted to testify at Belfast Magistrates' Court, Mr McKee shook his head to confirm he would be saying nothing.
The accused was warned that an inference on his guilt may be drawn from his stance.
Knocked unconscious
Footage which appeared on YouTube of the then teenager being knocked unconscious with a single punch and then dragged off the Falls Road was shown in court.
Sean Osborne said he struck Mr McKee despite fearing he could be shot for his intervention in June 2007.
Mr Osborne claimed to have seen the accused produce what he thought was a real gun and wave it about in an agitated state minutes earlier.
It was claimed that Mr McKee put the replica weapon away again before standing out in front of a passing car, forcing the female motorist to lock the doors for safety.
After landing the blow Mr Osborne said he pulled McKee out of the way and put him in the recovery position.
The witness said he had phoned police after spotting the suspected gun, but no officers arrived at the scene.
An imitation weapon was found at the scene and taken into a nearby shop.
Bad character evidence
Judge Amanda Henderson granted a prosecution application to have bad character evidence admitted.
The court was told this included a conviction for carrying offensive weapons.
She also denied an attempt by the defence to have the case thrown out.
Despite her refusal, Mr McKee's barrister, Conor Mullan attacked the credibility of Mr Osborne's evidence.
"There are no other witnesses to corroborate Mr Osborne's account (and) there are no forensics," he said.
Mr Mullan further claimed that the subsequent police investigation had been "a shambles".
CCTV evidence which, he claimed, could have shown his client did not have the gun was lost, the court heard.