Pseudomonas found in more hospital taps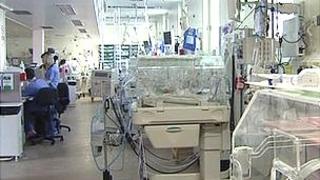 Pseudomonas has been detected in water outlets in the neonatal units at three more hospitals in Northern Ireland.
Water tests from Daisy Hill in Newry, Craigavon Area Hospital and the Erne Hospital in Enniskillen were positive.
As in all neonatal units, steps had already been taken to ensure that babies did not come into contact with the water supply.
No babies in these hospitals are infected with Pseudomonas, although two at Craigavon are colonised.
That means they have Pseudomonas on their skin but are not infected, and it is not having any effect on those babies.
No babies in the Erne Hospital or Daisy Hill Hospital's neonatal units are colonised.
The Public Health Agency said that of Tuesday, the total number of confirmed pseudomonas infections associated with the Royal Jubilee Maternity Hospital (RJM) outbreak was seven.
The number of babies currently in neonatal units who have confirmed pseudomonas colonisations and are associated with the RJM outbreak is six.
Five other babies have confirmed pseudomonas colonisations. They are being cared for in Altnagelvin, Craigavon and Antrim hospitals.
In December, a baby died from a Pseudomonas infection at Altnagelvin Hospital in Londonderry.
In December and January, three more died from a different strain of the infection at the Royal Jubilee Maternity in Belfast.
Taps in neo-natal unit across Northern Ireland have been changed and only sterile water is being used for the direct care of patients.