Smoky coal raises pollution level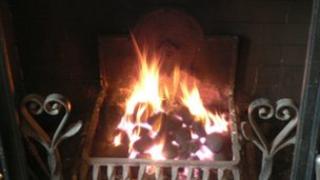 The Department of the Environment has warned of the lung cancer risk posed by households in Northern Ireland's urban areas burning smoky coal.
A report has estimated that the level of cancerous pollutants in the air over urban centres exceeds European targets.
It said this could lead to an extra 12 cases of lung cancer over a 70-year period.
The environment minister said people burned cheaper smoky coal because of the high price of fuel.
"The burning of smoky coal in towns and cities across Northern Ireland, particularly in cold weather, is leading to relatively high levels of these pollutants in the air we breathe," said Alex Attwood.
"I would encourage people to burn only smokeless coal.
"It is slightly more expensive, but scientific evidence shows that smokeless coal burns longer with a higher heat output which would negate the perceived savings on smoky coal.
"My department will be working in partnership with district councils to look at ways in which this problem can be addressed."
The report investigating the impact of Polycyclic Aromatic Hydrocarbons (PAH) on air quality was presented to Northern Ireland district councils on Wednesday.
District councils across Northern Ireland have been tasked with designating and policing Smoke Control Areas.