Terminally-ill woman wins first stage of fight for drug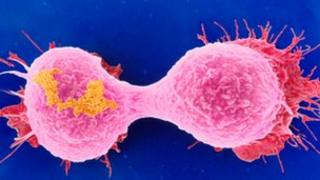 A terminally-ill cancer sufferer has won the right to challenge a decision to refuse to fund a potentially life-prolonging drug.
Carolyn Parkinson received High Court permission on Thursday to seek a judicial review into the decision.
The Belfast Health and Social Care Trust had refused to pay for the drug treatment.
Lawyers for Ms Parkinson, 42, claimed she was being treated inhumanly by the denial of funding.
The Belfast woman has been diagnosed with an advanced form of breast cancer and given 12-18 months to live, according to legal papers.
She has begun a self-financed course of the drug Lapatinib which could extend and improve the quality of her life.
Ms Parkinson's case centres on a decision by the Trust in October 2011 to refuse to pay for the treatment.
Her barrister, Frank O'Donoghue QC, told a preliminary hearing on Thursday: "My client is actually on the drug so it's being funded privately, but there is a limited life expectancy.
"Therefore there is a need to move the matter forward."
Irrational
Although licensed, the National Institute for Health and Clinical Excellence (NICE) have not yet published any guidance on the use of Lapatinib as a treatment for breast cancer.
It is understood that exceptional circumstances would therefore have to be demonstrated for funding to be granted.
But according to Ms Parkinson's legal team the trust's decision was irrational, unlawful and failed to take into account the drug's potential to extend her life by months.
It was also argued that the immediate threat to her life was not properly considered.
Papers submitted to the judge warned that: "The march of time... has in this case reached a deafening pitch".
In seeking leave to mount a full judicial review challenge, lawyers claimed breaches to Ms Parkinson's rights to protection from inhuman or degrading treatment, and to private and family life under European law.
Another submission advanced was that the failure to fund the drug infringed on the UN Convention on the rights of people with disabilities.
It was further alleged that the decision was predetermined ahead of a meeting between Ms Parkinson and representatives of the trust.
Counsel for the respondent accepted there were a number of issues to be dealt with but declined to make full submissions at this stage.
Mr Justice Treacy ruled that leave to apply for a judicial review should be granted.
The case is now due to proceed to a full hearing in May.