Massereene soldiers' families try to quell row over memorial parade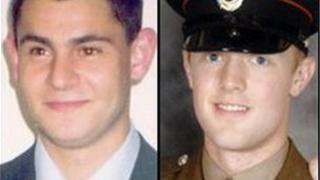 The families of two soldiers killed at Massereene Barracks almost three years ago have intervened in a row over how their sons will be remembered.
Mark Quinsey, 23, and Patrick Azimkar, 21 were shot dead by the Real IRA in Antrim in March 2009.
A group of loyalist bands wanted to mark the third anniversary of their deaths with a parade through the town.
But the plans have been changed after members of the council and the soldiers' families objected.
The Antrim and District Marching Forum wanted 30 bands to parade through the town centre and up to the scene of the shooting on 7 March.
There were plans for a service and a wreath-laying ceremony at the front of the barracks, which is now closed.
SDLP councillor Thomas Burns was opposed to the event.
"In the aftermath of this disaster, of these dreadful murders of the two soldiers taking place in Antrim and how that whole community came together, the united support, we don't want to lose that community goodwill," he said.
However, DUP councillor Trevor Clarke said it was right to remember the soldiers and other service personnel in such a way.
He said Protestant people were proud of the culture in Northern Ireland and "proud of what the security forces have done for us all to protect all sides of the community throughout the conflict".
He added: "Here we have a situation where republican thugs, scum, whatever you want to call them, taking action into their own hands to kill two individuals.
"So the Protestant community, being through the bands' forum, want to mark the anniversary of the loss of these two soldiers' lives."
The Azimkar and Quinsey families said on Thursday that they did not want the parade.
Antrim Mayor Paul Michael has been involved in consultations with the families.
"The decision clearly by the family is that this must be seen as inclusive and it must be recognised that the whole community was attacked here," he said.
"And it is those views and those feelings that the bands' forum clearly have taken on board and so the wishes of the families will be adhered to."
A spokesman for the Antrim and District Marching Bands Forum, Ryan Abraham, said they had now decided not to proceed with the parade.
He said the forum fully respected the wishes of the families and "there was never any intention to cause any offence".
The bands forum is now planning to commemorate all troops who have died in conflicts around the world with a parade in the town on 7 March and a service at the local cenotaph.
The soldiers were the first to be murdered in Northern Ireland since Lance Bombardier Stephen Restorick was killed by an IRA sniper in 1997.
Last month, Magherafelt man Brian Shivers, 46, was convicted of the murders. Shivers' co-accused, Colin Duffy, 44, from Lurgan was acquitted.