Newry woman Lindsay White guilty of Marek Muszynski murder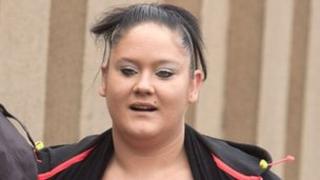 A Newry woman has been jailed for life for the murder of a homeless Polish man who was beaten to death in the city in July 2009.
Lindsay White, 23, from Mary Street, is the second person convicted of killing 40-year-old Marek Muszynski.
Last month, 20-year-old Adrian Cunningham, from Lisgullion Park, Newry, was told he must serve at least 11 years after admitting the murder.
White claimed she was being framed by Cunningham, but the jury rejected this.
Newry Crown Court Judge David McFarland told a shocked White that the only sentence "permissible by law is life imprisonment, and I impose that on you".
Poland's Honorary Consul to Northern Ireland, Mr Jerome Mullan, welcomed the verdict, saying that Mr Muszynski's family "will be pleased that those responsible" for his terrible death, have been dealt with.
During her two-week trial the court heard that after the brutal attack in an alleyway in the early hours of 7 July, a drunken White and Cunningham bought more alcohol and a Chinese take-away.
Meanwhile, Mr Muszynski, was left gasping for breath for half an hour before finally dying of his injuries.
However, White told her defence QC Turlough Montague that the Pole was "a decent enough person" and the more she had shouted at Cunningham to stop his attack "the harder" he hit out.
White said she was shouting for him to stop as he "jumped on his stomach as if it was a trampoline".
However by their verdicts the jury also rejected White's claims that afterwards she only went along with Cunningham out of fear and that to her "he was a monster, that he would do that to a human being".
They also accepted Cunningham's claims that, not only had White helped kick and stamp on a defenceless Mr Muszynski, but it was she who instigated the attack in the first place, and later robbed him of the few pence he had left to his name.
White will be told next month how much of her life term she must serve before being considered for release.
Senior Investigating Officer, Detective Chief Inspector Gareth Talbot welcomed the verdict and said: "Lindsay White has left a family without their beloved son and prolonged their heartbreak by denying any involvement in this attack.
"Marek was a Polish national who came to Northern Ireland to explore the opportunities this country could offer him.
"His life ended on a remote pathway in Newry after a brutal and sustained attack."