Mark H Durkan has the eye of the tiger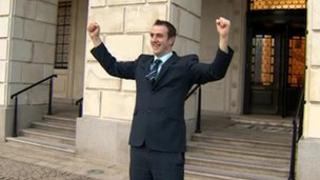 SDLP MLA Mark H Durkan is celebrating after winning a victory against Sinn Fein councillor Michael Cooper.
The win was not at the ballot box or in a debating chamber, but in the boxing ring.
Mr Durkan and Mr Cooper took part in a charity boxing match in Londonderry's DuPont Social Club at the weekend and the SDLP MLA came out on top.
Mr Durkan told Stormont Today's Tara Mills how he prepared for the bout.
"To be honest I didn't get to do as much training as I would have liked," he said.
"I had a cold for a few weeks last month. But over the last few weeks I've been doing quite a bit of training - press-ups, sit-ups, running, watching all the Rocky films with my son".
There were 12 fights on the night, Mr Durkan and Mr Cooper fought eighth.
Mr Durkan said the first fight was a bit rougher than he had expected.
"After the first fight I thought to myself, 'jeepers what have I let myself in for here'," he said.
The SDLP MLA gives credit to his opponent for a good fight.
"He's a nice enough bloke and fair play to him for taking part as well, he's a good sport," he said.
"Each fight was only three rounds and he did manage to last the distance.
"Although I do think the referee was protecting him a bit towards the end."