McGuinness campaign spent 300k euros on presidential election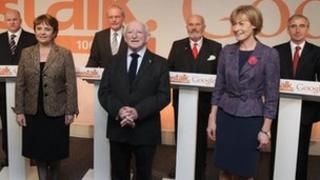 Deputy First Minister Martin McGuinness spent 300,000 euros on his Irish presidential election campaign.
Mr McGuinness ran for the presidency in October 2011.
The Standards in Public Office commission has released election expenses for all the candidates.
The most candidates could spend was 750,000 euros. Eventual winner Michael D Higgins spent almost 360,000 euros. Fine Gael's candidate, Gay Mitchell, spent the most at 527,000 euros.
Three of the seven candidates qualified for the maximum reimbursement of election expenses of 200,000 euros - President Michael D Higgins, Sean Gallagher and Mr McGuinness.
To qualify for a reimbursement of election expenses, candidates needed to poll more than 221,471 votes - one quarter of the quota of votes cast.
Dana Rosemary Scallon spent just under 60,000 euros on her campaign.