HCL won £18m contract from Department of Health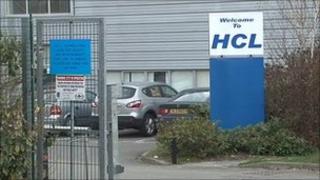 HCL, which is laying off 255 workers in Northern Ireland, recently won a £18m contract from the executive.
On Monday, the Indian owned company revealed it was closing its Armagh call centre and reducing its workforce in Belfast, with a loss of 255 jobs.
On Wednesday, it was revealed they were expanding in the Irish Republic, creating 220 jobs in Kilkenny.
In November, HCL was awarded a contract for back-office services from the Northern Ireland Department of Health.
The BBC learned the contract was won through an English based subsidiary.
In a statement the Health Minister Edwin Poots said the job losses are regrettable but not connected to the contract his department has signed.
Mr Poots said: "Following a full procurement exercise, in the autumn my department signed a contract with HCL Axon for a new HR, payroll and travel and subsistence system to be operated in a shared services environment for the HSC bodies.
"The job losses announced by HCL are regrettable but I understand that the decision has been taken for commercial reasons.
"The job losses are not connected to the contract that my department has signed with HCL Axon."
The company said: "HCL Technologies is a global company with over 88,000 employees across 26 countries with a number of lines of businesses including HCL Axon and HCL Business Process Outsourcing services (BPO).
"HCL Axon is the business transformation consultancy, delivering value to large complex organisations and HCL BPO develops reliable and scalable solutions for essential business processes.
"The contract between HCL Axon and the Northern Ireland Department of Health is not connected to the business operated by HCL BPO (NI) Ltd."
One hundred and seventy employees at the Armagh call centre are to lose their jobs, another 75 in Belfast will also lose theirs.
HCL BPO (NI) currently has a workforce of 800 in Belfast and Armagh.