Forensic scientist 'furious' over loss of Narrow Water bomb evidence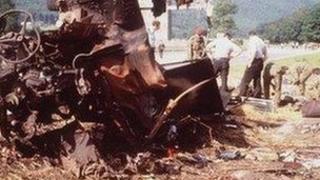 Northern Ireland's former top forensic scientist said he was "furious" that the bomb detonation site in County Louth, used in the Narrow Water attack, had been destroyed before he could gather evidence.
Eighteen British soldiers died in the IRA bombing in 1979.
Dr Alan Hall was giving evidence to the Smithwick Tribunal.
It is investigating the murders of two senior policemen.
There have been allegations of Irish police/IRA collusion in the 1989 murders of Chief Supt Harry Breen and Supt Bob Buchanan in south Armagh.
Dr Hall said when he first arrived at the detonation site in County Louth with RUC officers three days after the atrocity he could see "a wealth of potential evidence" on the ground.
He agreed with the garda in charge that the scene would be preserved until the next day when he would return with his forensic team.
But on his return he found the area had been "obliterated".
The scientist said it was like "someone with a scythe had gone over the extended area".
When he inquired what had happened, the garda he had met the previous day told him they had cleared the scene looking for evidence.
Dr Hall said he was "astounded".
"I was furious at the loss of potential evidence, and of going to the trouble of setting up a whole team to do a job that was no longer necessary," he added.
Asked if he thought it was done deliberately, he said: "It was either unbelievably incompetent or deliberately obstructive."
He said he could not remember the name or the rank of the officer he had spoken to.
A legal representative for An Garda Siochana said a forensic search of the area had been conducted by Garda officers and over 60 exhibits had been collected and sent to the forensic lab in Dublin.
Dr Hall said that if it had been a comprehensive examination then his reaction would have been different, "but when I saw it I could see there was still evidence".
On Thursday, a former RUC detective involved in the original investigation, told the tribunal forensic evidence was lost when the site was interfered with.