Rally held for murder victim Andrew Allen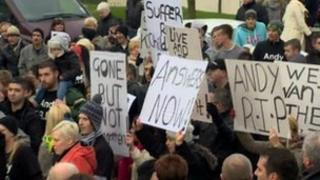 A rally has been held in Londonderry in protest at the murder of Andrew Allen.
Several hundred people gathered in the Top of the Hill area of the city.
The 24-year-old, father of two from Derry died after a number of shots were fired through the window of his home in Buncrana, County Donegal more than a week ago.
One of the organisers, civil rights activist Eamonn McCann, said people in the city were angry at Mr Allen's death.
"I think there was a very strong feeling, in particular around the area where Andy came from that there had to be some sort of show of opposition of defiance made in public," he said
"Holding a demonstration like this provides people with an opportunity to show what they think without undertaking retaliatory actions in response."
Speaking on behalf of the family, Mr Allen's sister-in-law Leona Barr said she did not want "any other mother or father to have to experience this heartache".
"We would like to stress for these people who are hiding behind masks and guns to stop destroying our families, to leave our children alone and to stop these murders," she said.
"We want these death threats to stop. We want these death threats lifted."
MLAs from all parties condemned the murder when it was raised by Sinn Fein's Martina Anderson as the matter of the day in the assembly on Monday.
Dissident republicans have been blamed for his death.