Patients at Antrim Area Hospital moved after contractors hit gas pipe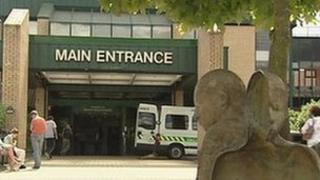 A number of patients at Antrim Area Hospital had to be moved on Saturday morning after contractors hit a gas pipe.
Twenty people within the renal unit were moved to a different ward at about 08:00 GMT.
The alert ended two hours later. The rest of the hospital continued to function as normal.
Sean Donaghy, chief executive of the Northern Trust, said there were plans in place for such incidents.
"I am pleased the alert process went smoothly, with minimum disruption to patients and that we are now back to normal business," he said.
"Staff on the hospital site acted quickly to minimise disruption and ensure patient safety and I would like to thank them, the fire service and PSNI".
Valerie Jackson, director of acute hospital Services said only 20 patients were affected and those who had their dialysis disrupted would be accommodated for on Sunday.