RAAD behind Andrew Allen shooting in Buncrana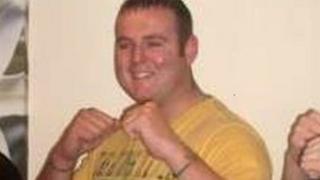 A group calling itself Republican Action Against Drugs, have said they murdered Londonderry man Andrew Allen in Buncrana, County Donegal.
Mr Allen, 24, from the "Top of the Hill" in the Waterside area, was shot at a house in Links View Park, Lisfannon on 9 February.
In a statement, RAAD said its Donegal unit shot Mr Allen whom they called a "death dealer" and "career criminal".
The father of two was the first man to be murdered by RAAD.
But the group has been responsible for a series of punishment-style shootings in the Derry area.
In its statement released on Wednesday, RAAD said Mr Allen had been warned to "cease his activities five to six months ago" but had not done so.
RAAD also issued a threat against six other unnamed individuals and warned they would face "the ultimate sanction".
The vigilante group claimed it was forced to call off a second attack on the night of the murder because of increased police activity in Derry.
Mr Allen was one of several men forced out of the city by RAAD last year.
'Gruesome act'
Sinn Fein assembly member Raymond McCartney said the group should disband.
"Within hours of the murder it was widely accepted that this criminal gang masquerading as defenders of the community carried out this grusome act," he said.
"The rationale being put forward by this gang for its existence is redundant and it has created nothing but grief in the community.
"Contrary to what this pseudo group claims there is no measurable support in the community for their actions."
On the night of Mr Allen's murder, three men went up to the house and fired a number of shots through a bedroom window.
Mr Allen had been living at the house for about six months. His partner was in the property when the shooting happened at 21:20 GMT, but was not injured.
A car was found burnt out a short distance away at Fahan shortly after the attack.