Helicopter crash pilot 'was incapacitated'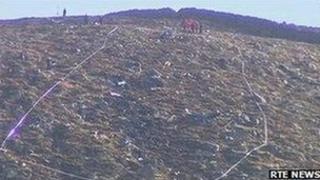 The pilot of a helicopter which crashed killing a friend of the Prince of Wales may have been incapacitated, an inquest heard on Wednesday.
Charles Stisted, Ian Wooldridge, and their pilot Anthony Smith died when their aircraft hit Shanlieve Mountain in the Mournes in October 2010.
They were from England and had been on a visit to Northern Ireland.
The helicopter crashed in an area known locally as Leitrim Lodge, between Hilltown and Rostrevor.
The Prince's friend Mr Stisted, 47, chief executive of the Guards Polo Club at Windsor, was a passenger on the flight and had been returning to England after attending an exclusive shooting party at an estate in County Tyrone.
Mr Wooldridge, 52, was a construction company businessman and fellow polo player.
Experienced pilot Anthony Smith, 63, was formerly of the RAF and army with service in Northern Ireland.
Air Accident Investigation Bureau investigator Paul Hannant said the helicopter flew at 150 knots into the mountainside.
"This is part of the mystery, that somebody of that ability and great experience would not take a risk in flying into cloud below the level of the high ground, it is something that you simply do not do," he said.
"This is why I have come towards some form of incapacitation but that is a personal view."
A warning system of high ground was turned off.
Parts of the aircraft were scattered across a large area of mountainside.
A pathologist said no illness was discovered in Mr Smith, although his remains were scattered over a wide area and a full post-mortem examination could not be carried out.