Plaque honours Comber-born blues singer Ottilie Patterson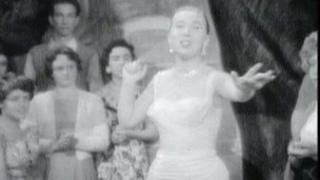 She was one of the most famous ever white female blues singers of her day.
In the 1950s, Comber-born Ottilie Patterson, became internationally known in her field.
But when she died last year with no close surviving relatives, her death went more or less unnoticed.
Now some of her fans have got together to ensure there is some sort of tribute paid to her.
A special one-off concert was held on Thursday night to remember the singer and a plaque was unveiled at the cottage where she was born in Comber.
As well as appearing on shows like the Six, Five Special, and the Morecambe and Wise show, Ottilie extensively performed in the UK and Europe with her husband Chris Barber and his band during the 1950s and and 1960s.
She toured the United States six times and sang at the Hollywood Bowl as well as at President Kennedy's Jazz festival. She was also signed to Decca and Columbia records.
When she was starting out as a Belfast blues singer, Patsy Malarkey met Ottilie.
She performed at Thursday's special Ottilie tribute concert concert with experienced jazz and blues musicians.
"There was this star who came out to meet me wearing this long glittery dress and she was quite awe-inspiring at the time," she said.
"She was the trailblazer, it was easy for me to follow her because I had a role model, I had Ottilie.
"She didn't have anyone and she went out there, a wee girl from Northern Ireland singing the blues.
"It was unheard of, but she did it, and I think she should be recognised for that. Her voice was amazing.
"Her influence on other people including myself was priceless."
In the early 1950s, the young art teacher who was schooled at Regent House and who later lived in Newtownards, took a punt at fame in London.
It lasted for almost two decades.
No close surviving relatives
On Thursday morning in a more permanent reminder, a plaque was unveiled, at the cottage in Comber where she was born.
John Andrews's family own the property.
"I understand she was just as famous in America as she was in Great Britain and probably Europe," he said.
After bouts of illness in the 1970s, Ottilie Patterson returned briefly to live in Northern Ireland.
Ottilie and her jazz musician husband Chris Barber later got divorced after being married for 22 years.
They never had any children and it is thought Ottilie had no close surviving relatives.
"She and Chris performed all over England, I think it was at times very hard work with different towns every night," John said.
"And sadly I think as she got older and her health failed, her voice failed as well, but these things cannot go on for ever."
In 1991, Ottilie eventually retired to live a quiet life in Scotland, where she died in a nursing home last June.
Patsy Malarkey was conscious Ottilie would not have wanted a fuss after her death.
"At the beginning of this project I was a little bit worried, thinking maybe she would not have wanted this, but then I thought well this is for the people who are left behind that want to remember her," she said.
"It is to help them keep her in their minds and in their hearts."