Ulster Bank posts £1bn loss for 2011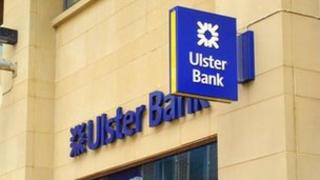 The Ulster Bank has announced a pre-tax loss of £1bn for 2011.
That is an increase of £300m on losses the bank made in 2010.
Operating profit before impairments fell from £400m to £360m for the year, while impairment losses increased to £1.4bn.
Its parent company, the Royal Bank of Scotland also announced an attributable loss of £2bn, although investment bankers at RBS will share £390m in bonuses.
The Ulster Bank's losses are mainly due to impairment charges, such as writing off bad debt, but unlike the RBS, the Ulster Bank has seen a worsening performance in its day-to-day high street banking.
Ulster Bank chief executive Jim Brown said that the bank's results reflected the continued challenging banking market.
"We are implementing a clear strategy to turn around our business," he said.
"The recent review of our operating model including the announcement regarding 950 proposed job losses (350 in Northern Ireland) forms part of this.
"We are recognised as one of the largest banks on the island of Ireland and of systemic importance to the economies in which we operate."
The Royal Bank of Scotland (RBS) reported its fourth year of losses since the bank's bailout in 2008.
The bank posted an attributable loss of £2bn in 2011, up from a loss of £1.1bn in 2010.
In reaction to the annual results, Chancellor George Osborne said RBS is "cleaning up the mess after the biggest bank bailout in history".
Last month chief executive Stephen Hester turned down his bonus of nearly £1m following political pressure.