Derry blast bomb accused Eugene McLoone granted bail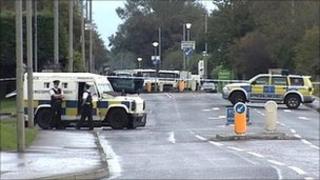 One of three men charged over a bomb discovered in a car in Londonderry has been granted High Court bail.
Eugene McLoone, 54, was detained with two other men during a surveillance operation in the city.
He was driving the car found to contain an improvised blast bomb when it was intercepted on the Buncrana Road in September last year, the court heard.
Police were said to have monitored his vehicle for 20 minutes before making the arrests.
A co-accused claimed he found the device lying on the road and was taking it to a local parochial house to ensure no children were injured by it.
All three men have been charged with possessing explosives with intent to endanger life.
Mr McLoone, a father-of-four from Abercorn Road in the city, told police he knew nothing about the device when he stopped to give a lift to the co-accused.
He was granted bail after a judge pointed to his clear record and family background.
Mr Justice McLaughlin did, however, stress the gravity of the alleged offence.
He said: "It's serious in any part of Northern Ireland, but it's even more serious in the context of Derry because there is a lot of this activity going on in Derry at the present time and for a considerable time before.
"People in Derry need to be protected from this kind of activity."
Mr McLoone was ordered to report daily to police and to adhere to electronic monitoring conditions.
He was also banned from leaving Northern Ireland.