PPS to examine UVF supergrass 'deal' in Belfast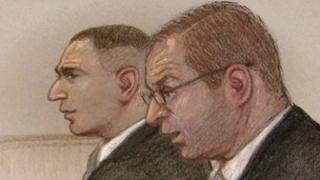 The Public Prosecution Service is to consider whether two brothers breached the terms of their deal in the UVF supergrass trial in Belfast.
On Wednesday, nine men were acquitted of the murder of UDA leader Tommy English, following testimony from Robert and Ian Stewart.
Mr Justice Gillen said the brothers had lived on a "daily diet of lies".
On Thursday, the PPS said it was considering if they had "knowingly failed to give assistance".
In a statement, it said: "Section 74 (2) of the Serious Organised Crime and Police Act 2005 provides the mechanism to examine whether an assisting offender has knowingly failed to give assistance in accordance with the agreement with the prosecutor.
"PPS is actively considering this in light of Mr Justice Gillen's judgement."
'Clear public concern'
Meanwhile, the assembly's justice committee has called on Justice Minister David Ford to make an urgent oral statement to the assembly about the trial.
Speaking after the committee met on Thursday, its chairman the DUP's Paul Givan, said: "There is clear public concern following the results of the UVF supergrass trial, and particularly about how this was allowed to proceed given what is now known about the quality of the evidence.
"A huge amount of taxpayers money has been spent on what was one of the longest and most expensive trials in Northern Ireland's history."
Thirteen men had been charged with more than 30 offences including the murder of rival loyalist Mr English, kidnapping, and UVF membership.
Twelve out of the 13 were acquitted of all charges.
The trial, which ended last month after 71 days, was one of the longest and most expensive in Northern Ireland's legal history.
Robert and Ian Stewart admitted UVF membership, and had already served more than three years for their part in the murder of Mr English on Halloween night 2000.
The Ulster Defence Association member was shot dead in front of his wife and children at his home on the Ballyduff estate at the height of a loyalist feud between the UVF and UDA.