Police seek dismissal of case brought by one of Ballymurphy Seven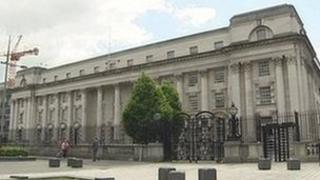 Police are seeking the dismissal of a damages case brought by one of the men acquitted of a terrorist attack in Belfast 20 years ago.
Danny Pettigrew, one of the so-called Ballymurphy Seven, is claiming compensation for wrongful arrest and malicious prosecution.
He was cleared of all charges connected to RUC and military patrol bomb attack in the city in August 1991.
The chief constable's lawyers have applied to have the action thrown out.
This is due to the delay in bringing it.
An appeal against a decision not to grant their application was due to be heard at the High Court on Friday.
However, the case was adjourned to allow the police to be given full transcripts from the original criminal trial which ran during the mid-1990s.
Brian Fee QC, for Mr Pettigrew, told the court: "Obviously a major part of the defence application is witnesses - a couple have died, some are ill and everybody has got poor memories."
Counsel for the chief constable disclosed that a briefing document supplied to an arresting officer no longer exists.
"At the time there were so many matters going on in that part of the city," he added.
The judge, Mr Justice Gillen, told the parties he remembered the Ballymurphy Seven incident.
"I was at the bar at the time. It's a case that achieved some notoriety," he said.
According to his assessment, the issue of alleged inordinate delay in bringing the action would be central to his decision.
"The matter which will probably take up most of my attention is whether there is going to be serious prejudice to the defendant," he said.
"That's why the transcripts could be vital to this case."
The judge listed the application for a new hearing date next month.