Elderly women targeted in raids in Banbridge and Omagh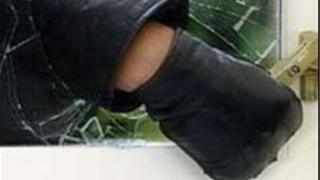 An elderly woman was held down in her bedroom by two men who broke into her house at Kenlis Place in Banbridge on Thursday night.
They escaped with money from her handbag. The woman was not injured, but was left badly shaken.
In a separate incident three men have been been arrested after another elderly woman was targeted in Omagh.
She was approached by three masked men at her house on Tamlaght Road. They searched her house but stole nothing.
The masked men had ordered the woman back into her house and one of them ripped the phone line out.
Again the woman was not injured but was shaken by what happened.
The three men who were arrested are aged 17, 22 and 36.
The incident happened at about 20:15 GMT on Thursday.
The one in Banbridge happened at about 22:30 GMT.
The burglars were described as being approximately about 5ft 8in tall, in their 30s, of thin build and were wearing dark clothing with their hoods up.