PPS head defends why UVF supergrass went ahead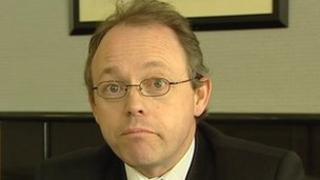 Northern Ireland's director of public prosecutions has been explaining why the loyalist supergrass trial went ahead.
Barra McGrory was responding to criticism that the trial should not have gone ahead following the acquittal of nine men on Wednesday for the murder of UDA leader Tommy English.
Brothers Robert and Ian Stewart gave evidence against 13 men.
The judge said the brothers had lied to the police and the court.
Writing in theBelfast Telegraphon Monday, Mr McGrory said the brothers had gone voluntarily to a police station at a time when there was no evidence against them and had provided information about the murder of Tommy English which was consistent with information held by the police.
He said police had then carried out an extensive debriefing exercise and concluded that both brothers had given "truthful and reliable accounts".
Mr McGrory said it was on that basis that the prosecution decided that the "test for prosecution was met" and that it was "proper to place this case before the court".
He said if the Public Prosecution Service (PPS) had decided not to prosecute on the basis of the information provided by the brothers, then it could have been accused of being "risk-adverse".
The head of the PPS said it had ultimately been for the judge to decide if he was satisfied of "proof beyond reasonable doubt".
Mr McGrory said in reaching his conclusion, the judge had the benefit of detailed cross-examination of witnesses and was able to assess the demeanour of the witnesses while they were giving evidence.
Acquitted
Thirteen men had been charged with more than 30 offences including the murder of rival loyalist Mr English, kidnapping, and UVF membership.
Twelve out of the 13 were acquitted of all charges.
The trial, which ended last month after 71 days, was one of the longest and most expensive in Northern Ireland's legal history.
Robert and Ian Stewart admitted UVF membership, and had already served more than three years for their part in the murder of Mr English on Halloween night 2000.
The Ulster Defence Association member was shot dead in front of his wife and children at his home on the Ballyduff estate at the height of a loyalist feud between the UVF and UDA.
On Thursday, the PPS said it would consider whether the brothers had breached the terms of their deal in the UVF supergrass trial.
Mr Justice Gillen said the brothers had lived on a "daily diet of lies".
The PPS said it was considering if they had "knowingly failed to give assistance".
In a statement, it said: "Section 74 (2) of the Serious Organised Crime and Police Act 2005 provides the mechanism to examine whether an assisting offender has knowingly failed to give assistance in accordance with the agreement with the prosecutor.
"PPS is actively considering this in light of Mr Justice Gillen's judgement."