Alex Attwood considers derelict buildings plan for north coast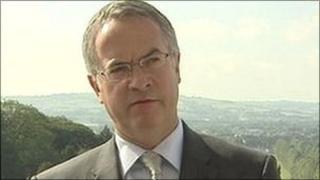 Environment Minister Alex Attwood has said he may fund a scheme to help improve the appearance of derelict properties on Northern Ireland's north coast.
A motion is to be put before the assembly which will give councils the power to ensure derelict sites in towns are made safe.
The Irish Open golf event will be held in Portrush this summer.
Mr Attwood said a short-term cash injection would help the area.
"I may well be minded to release funds in order to secure some of those sites in order to take the bad look off Portrush and Portstewart in the run down to the Irish Open," he added.
"This is so that the message that comes out of that area is a great course, a great area, an area that is beginning to look better."
Some places in Northern Ireland where buildings have been demolished for development have been left untouched because developers cannot afford to proceed.
At present, neither the executive nor councils have the power to ensure the sites are made safe.