Carroll murder trial: Witness's evidence to be included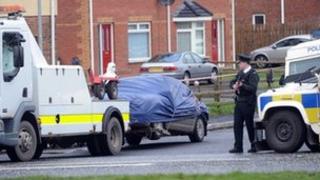 The judge at the Constable Stephen Carroll murder trial has refused to exclude the evidence of a key prosecution witness.
Constable Carroll was shot dead in Craigavon in March 2009, after responding to a 999 call.
The witness claims he saw one of the accused at the scene of the murder half an hour before the shooting took place.
The judge ruled that the evidence given by a man, known only as Witness M, was not unfair to Brendan McConville.
Mr McConville, a 40-year-old former Sinn Fein councillor from Glenholme Avenue, Craigavon, and John Paul Wootton, 20, of Collindale, Lurgan, both deny the murder.
Lord Justice Girvan said that police had breached part of the terrorism act by failing to carry out an identity parade when Witness M told them what he claims to have seen that night.
The judge said it was a breach of the code, but there was no bad faith on the part of the police and they did not reach their conclusions irrationally.
The defence team had wanted Witness M's evidence thrown out, but plan to press ahead with the argument on Wednesday that there is a lack of evidence against the accused and that the trial should be stopped.