Men charged over break-in at Lord Morrow's office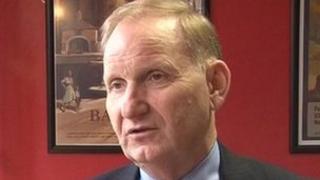 Two men have appeared at Dungannon Magistrates Court charged in connection with a burglary at Lord Morrow's constituency office.
Shaun Barry Joseph McHugh, 23, of Hillhead, Stewartstown and Daniel Kevin Martin Quinn, 25, from Castle Gardens, Dungannon are accused of entering the premises, theft and possessing a claw hammer.
A police officer said both accused could be connected.
Bail was refused.
Two mobile phones, a television and CCTV computer equipment were taken during the break-in at the DUP MLA's office in Church Street.
The court heard that Mr McHugh and Mr Quinn were initially arrested around 07:00 GMT on Tuesday, on suspicion of being in breach of curfews which were imposed as part of existing bail terms.
They were caught hiding behind an eight feet high gate in the Perry Street area.
The homes of both accused were searched and the mobile phones were located in Mr Quinn's house.
Analysis
He claimed to have purchased them the night before being arrested, from two foreign nationals who offered them to him as he was putting his bin out.
The police officer said a latex glove had been found on the premises, and a footprint, which have yet to be forensically analysed.
Defence barrister Fintan McAleer asked for bail to be considered for both men with alcohol prohibitions and tagging enforcement.
But District Judge John Meehan rejected any notion of release, stating: "Bail is refused. These two are at large whilst on bail and there are reasonable grounds to believe they will re-offend.
"There are reasonable grounds to believe they are out and about at night intoxicated on some sort of substance, roaming around up to no good. They are racking up a lot of serious charges.
"They can seek the indulgence of the High Court if they disagree with my decision."
Both men were remanded in custody to appear by video-link on 21 March.
A barrister for both men said a High Court bail application would be sought.