Man arrested over 1975 Shankill bar bombing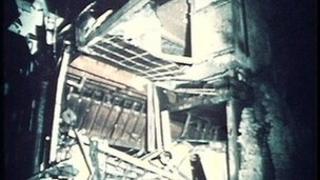 A 54-year-old man has been arrested in connection with the bombing of a bar on the Shankill Road almost 40 years ago.
Detectives investigating the bombing at the Mountainview Tavern arrested the man in County Antrim and he is being questioned at Antrim police station.
Five people were killed and 60 injured in the attack on Grand National Saturday in 1975.
The investigation into the attack was re-opened following a review by the Historical Enquiries Team.
The attack happened at about 6pm. Two youths opened fire with handguns before detonating the bomb.
Five men, aged between 18 and 52 were killed. One of them, William Andrews, was a member of the UDA.
It was the second pub bombing in Belfast that day. Earlier the UVF had killed two people in an attack on a pub in the New Lodge area of north Belfast.