Ex-Garda chief faces collusion inquiry questions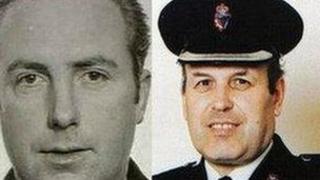 A former Garda commissioner has faced tough questions at the Smithwick inquiry over a report on collusion.
Pat Byrne was giving evidence to the tribunal which is looking into alleged Garda collusion in the IRA murders of two RUC officers Harry Breen and Bob Buchanan.
Mr Byrne, who directed an investigation into claims of collusion said it was "acceptable" that politicians, who claimed to know of rogue Garda officers, were not interviewed.
The officers were murdered by the IRA in south Armagh in March 1989.
Mr Byrne was garda commissioner in 2000 when questions were raised in the irish parliament following media speculation that a Garda mole had leaked information to subversives.
In answer to those parliamentary questions, the minister for justice at the time said that Garda investigations had shown there was "no tangible' evidence of collusion".
Those investigations were under the spotlight on Thursday.
It was put to Mr Byrne by the counsel for the tribunal that he had an opportunity in 2000 to deal with the issue of collusion. Mr Byrne disputed that.
He said he had decided matters needed to be investigated and had appointed the Gardai's most senior investigator, Detective Chief Superintendent Sean Camon, to do so.
However, despite Irish TD Jim Higgins and Lagan Valley MP Jeffrey Donaldson claiming to have knowledge of collusion, neither politician was interviewed by the detective.
Mr Byrne said he found this "acceptable" because Sean Camon "knew what they knew".
The Camon Report subsequently found no evidence of collusion.
On Thursday, Mr Byrne said he stood by the report in its comprehensiveness and what it established.
The former commissioner also rejected suggestions that the first report, conducted by Assistant Commissioner Ned O'Dea in the immediate aftermath of the murders, was investigating collusion.
He insisted it was a fact finding mission to establish the arrangements for the meeting in Dundalk station that the officers had been attending, prior to being ambushed.
However, the tribunal lawyer said this was a "coy cover" for the true purpose of the inquiry.
Mr Byrne also rejected suggestions that Chief Supt Camon's report was not as comprehensive as it could have been.
The tribunal was shown Garda intelligence, which pointed to a possible link between former Dundalk Garda Detective Sergeant Owen Corrigan and members of the IRA.
Mr Byrne said that Chief Supt Camon had full access to Garda intelligence, and that just because it was not mentioned in the report, it did not mean it had not been considered.
He stressed that intelligence was not evidence and it had to be analysed carefully.
Mr Corrigan denies all allegations against him.
Mr Byrne will continue giving his evidence on Friday.