Antrim man Philip Hull killed wife and himself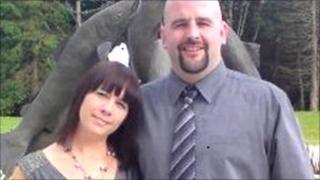 A Belfast coroner has found that a man murdered his wife and then, a short time later, took his own life in a nearby forest.
Sharon and Philip Hull, from Antrim, died in October 2010, leaving three young children.
Coroner Brian Sherrard found that Mr Hull murdered his wife early in the morning at the family home in Carnbeg Meadows.
His body was found nearby in a fume-filled car.
The couple had been living separately and Mrs Hull had recently taken out a non-molestation order against her husband.
The court heard she was struck on the head with a blunt instrument, before her whole head was slammed against a door frame.
Those injuries could have killed her, but she was also strangled by hand, and with a towel.
Their three children had been staying elsewhere at the time.
After ringing work colleagues to tell them what he had done, Mr Hull drove to Duncan's Car Park nearby, where he took his own life.
He was found by an early morning dog walker in his car.
The court heard he had been unable to accept that the marriage was over, and that when upset he was sometimes prone to "fly off the handle".
The coroner said it was a "tragic incident" involving "the loss of two productive young people, the parents of three young children".