Newtownards remembers men killed in German bombing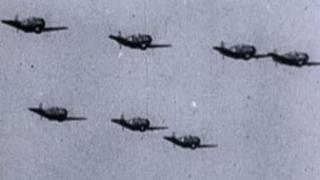 A memorial is being unveiled to the 13 'forgotten' victims of the Newtownards air raid.
During the Second World War on 15 April 1941 at the same time the Belfast Blitz was happening, Newtownards and Bangor were also bombed.
The German Luftwaffe targeted the Ards Airfield under the cover of darkness at 23:00 GMT.
It had been used as the headquarters of 231 Squadron, and was guarded by soldiers of 70th Battalion Royal Inniskilling Fusiliers.
As these soldiers were teenagers they were too young for front line service and were used for homeland defence.
Ards Councillor Ronnie Ferguson said it was only fitting that there was a permanent memorial to all these young men.
"They were here to protect the airfield and one of their huts took a direct hit," he said.
"It wasn't a secret but with the passing of time, more than 70 years, it has faded from people's memories and has passed into history as it were and Ards council felt a memorial would be appropriate.
"If you go into any town, into any city in the UK, you will see war memorials.
"These lads were killed in Newtownards, but their names are not commemorated, and we feel it is high time it is commemorated."
The commander of Ards Airfield was off the site when the bombing happened in Newtownards, but he was killed that same night during the Belfast Blitz.
The hill around Scrabo Tower was lit up with incendiary devices but it was the hut the young soldiers were in that was bombed with explosives.
In Belfast that same Easter Tuesday night some 900 people died as a result of the bombing and 1,500 were injured.
Outside of London, this was the greatest loss of life in a night raid during the blitz.
Mr Ferguson said one theory is that the Germans mistook Strangford Lough for Belfast Lough, and thought Newtownards was Belfast.
"It has been very difficult over the years to find out exactly why they bombed Newtownards," he said.
"Obviously we have got a lough, Belfast has got a lough, both have airfields.
"Scrabo Tower that evening was well lit up by German flares and they could quite easily have been mistaken. Others would tell you the planes come in fairly low and they knew what they were doing."
Just four years earlier, before the outbreak of the war, the German Foreign Minister Joachim von Ribbentrop landed a Luftwaffe plane at Ards Airfield to meet Britain's then Minister for Air, Lord Londonderry at his nearby home of Mount Stewart.
There Ribbentrop gave the family a china German storm trooper.
A granite stone with the badge of the 70th (Young Soldiers) Battalion Royal Inniskilling Fusiliers and an inscription to those who died will be on permanent display at the town's War Memorial Gardens.