Cancer patient fails in court bid for pioneering treatment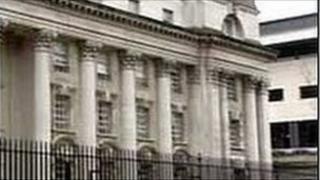 A cancer patient has told the BBC that pioneering radiotherapy treatment could help him see his young son grow up.
Belfast man Brian Withers has failed to overturn the decision that he should instead receive palliative chemotherapy for a tumour in his chest.
Mr Withers told Radio Ulster he hoped to live long enough to see his one-year-old go to school.
At the High Court, Mr Justice Treacy held that the opinion of an expert panel should not be interfered with.
He refused Mr Withers leave to seek a judicial review.
The 60-year-old is now pinning his hopes for survival on gaining a referral from a clinical oncologist.
"I really don't know what the future holds for me," he told Evening Extra.
"The tumour in my chest needs more treatment.
"I have a young child. I would like to see my child reach education, see him through school, possibly see him as far as university.
"I know that is quite a few years in front of me but I have all that to look forward to.
"I have a brother who is a doctor and all his fours sons are qualified doctors in various fields so I would like my son to make it that far."
Mr Withers, who quit work in banking and financial services due to ill-health, was seeking funding for Stereotactic Body Radiotherapy (SBRT), a method currently unavailable in Northern Ireland.
One of the means of delivering SBRT is the use of a specialist machine called the Cyberknife to target tumours which would be inoperable because of their close proximity to major organs.
Tumour
Mr Withers has already travelled to London to undergo the procedure, which works alongside traditional chemotherapy, on a separate abdominal tumour.
He raised £30,000 through loans and donations for that radiotherapy and said his stomach area had just been given the all-clear.
But despite the chemotherapy initially working to shrink another secondary cancer identified in his chest area, Mr Withers said it has now grown back.
With no charitable means left open, he wanted the Belfast Health and Social Care Trust to recommend financing another course of SBRT.
However, a multi-disciplinary team decided in May last year that palliative chemotherapy should be given to him.
Although his MP Naomi Long lobbied for the treatment, which would have cost another £20,000 plus consultants' fees, the trust confirmed its position last November.
Death
In court on Monday counsel for Mr Withers, instructed by John J Rice & Co Solicitors, argued that the decision was irrational and breached his right to life under European law.
Barrister Michael Forde also claimed his client was not properly informed of an opportunity to seek funding.
It was further contended that a second opinion and recommendation of London-based NHS clinical oncologist Dr Andrew Gaya - an expert in the Cyberknife procedure - was not taken into consideration.
David Dunlop, for the trust, countered that the legal challenge should be rejected because it was not for the courts to decide on the judgment of medical experts.
Mr Justice Treacy agreed that the judicial review application must be dismissed, despite expressing sympathy for Mr Withers' condition.
He pointed out that the trust still hold the view that palliative chemotherapy is the appropriate care.
Mr Withers said he was disappointed by the ruling. He now hopes to be referred for funding after meeting his clinical oncologist next week.
"It's now urgent. I don't want to be told in three or four months time 'Sorry, Brian, your chance has gone because the tumour has grown too big'."
"Dr Gaye told me I had infinitely more chance of life if I had this treatment.
"He made me a guarantee that with the chemotherapy alone there's no future: in other words, death.
"Dr Gaye was offering me the chance of life."