Assembly building to be converted into apartments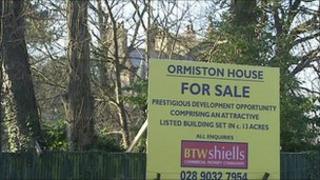 Planning permission has been granted to convert a Northern Ireland assembly building into apartments.
Ormiston House, a listed 19th century building in east Belfast, cost the assembly £9m in 2001.
It went on the market in 2011 with an asking price of just £2.5m; the granting of planning permission makes a sale much more likely.
The planning permission will allow the house, its gatehouse and mews to be converted into 11 apartments.
In addition a new block of 20 apartments will be built in the grounds.
The planning application is due to be discussed by Belfast City Council's planning committee this week.
The assembly bought the property in 2001 from the Police Authority, the predecessor of the Northern Ireland Policing Board.
It was purchased with the aim of providing offices to ease space pressure in nearby Parliament Buildings.
However, the assembly came up against planning hurdles for the site, and was unable to secure approvals for proposed office use and previous apartment developments.
It has been largely unused but has run up security and maintenance costs of more than £1m.
The property was previously owned by the shipbuilder Sir Edward Harland who remained there until 1887, when it was acquired by his business partner William Pirrie, who later became the chairman of Harland & Wolff.
Shortly after Lord Pirrie's death in 1924, Harland & Wolff came into sole ownership of the property, selling it in 1928 to Campbell College, which held it until the mid-1970s.