£109m spent on locum doctors in Northern Ireland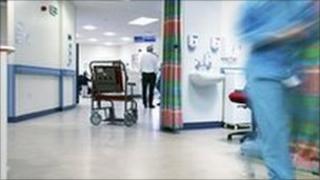 Health trusts in Northern Ireland spent £109m over the past five years employing locum doctors to cover vacancies.
Locum doctors are employed to cover vacancies either when doctors are off on leave or are sick.
The assembly's Public Accounts Committee wants closer management of the system to ensure value for money.
Committee chairman Paul Maskey said the system must be tightened to ensure money is better spent.
The committee recommends that the health trusts improve their pre-employment checks, that they are more aware of doctors who perform badly and that they monitor the number of adverse incidents involving locum doctors.
"It does seem to us that outside agencies seem to have the trust and the department over a barrel when it comes to negotiating pay for some of the locum doctors," said Mr Maskey.
"What we are saying is that the department needs to look at the use of having a locum bank of doctors which is much more cost effective.
"Yet we will see much more bad practice because it is clear to us when they use agency staff some of the checks and balances are not put in place."
In a statement, the Health and Social Care Board said it continued to work in close partnership with both the department and trusts to arrange hospital services based on "optimal clinical quality and value to public finance".
"The board will now wish to carefully consider the PAC's report and welcomes its publication for its ability to focus upon an area where further work may be needed," it said.
"The board will wish to support renewed efforts by trusts and the department in pursuit of the recommendations being made by the PAC."