Owen Paterson goes cuckoo in the Commons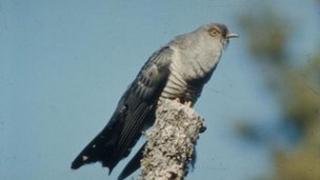 It is not often in Parliament that a government minister answers a question whilst putting on an Irish accent.
However, that is exactly what Owen Paterson did during Northern Ireland Question Time on Wednesday.
The secretary of state raised a few eyebrows and got a few laughs in the chamber as he responded to a question about the role of Irish men and women in the British armed forces.
He was asked about the membership of the Royal Irish Regiment and said he wears a Royal Irish Regiment wristband and is proud to have them based in his constituency in Shropshire.
He went on say that he had attended a military dinner on Monday night which celebrated the battle of Barrosa when British troops, including many Irishmen, defeated the French in March 1811.
On that occasion the first French Imperial Eagle was taken by Sergeant Masterson of the 87th Irish Foot.
Putting on an Irish accent Owen Paterson told MPs that when this occurred a cry was heard: "Bejesus I have the cuckoo."
The secretary of state was speaking after a number of MPs had raised the role of Irish men and women in the British Armed forces.
He also told the Commons that the Royal Irish Regiment is a "glorious example of an organisation that brings people together from all parts of the community and south of the border".