1948 Olympic team members honoured at Dublin ceremony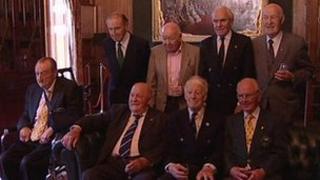 The 11 surviving members of the 1948 Irish Olympic team were honoured at a special medal-giving ceremony in Dublin on Friday.
For the Irish team of 1948, their most difficult challenge was bureaucratic.
Lord Burley, the Chairman of London's 1948 organising committee insisted that the Irish team parade under the banner 'Eire' instead of Ireland, which some of the athletes refused to do so.
But other Irish athletes were denied the right to compete because some members of their team were from Northern Ireland.
That dictum affected, amongst others, the swimming team.
"Lord Burley said we could not compete as a team because we had three team members from Northern Ireland; we could only compete if we ignored those from the north," said Paddy Condon.
"We said no way, we're a team, we either go together or we don't go at all."
The now 94-year-old is philosophical about losing out on the chance to compete.
"Well our standard was so poor, our effort was, 'for God's sake don't be last anyway'."
The postwar Olympics became known as the "Austerity Games".
"It was unlike present days, they had to bring their own food with them and they had no cold storage," explained Pat Hickey, president of the Olympic Council of Ireland.
"They were extraordinary individuals to be able to perform under the conditions that were there at the time."
Rower Robin Tamplin remembers the bus that took them from their lodgings to the training camp breaking down, and having to get out and push when it did.
He also has particular memories of the opening ceremony.
"When the pigeons were released at the opening - imagine! Thousands of pigeons cooped up - and when they got free they let fly with everything they were holding on to for ages, and we all disappeared under you know what. But it was fun, it was exciting, it was terrific."