Exhibition in London marks Third Home Rule Bill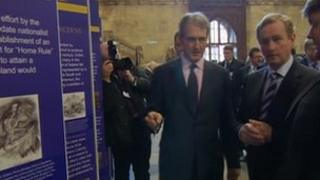 The Irish Prime Minister, Enda Kenny, and Northern Ireland Secretary Owen Paterson have marked the centenary of the Third Home Rule Bill.
They opened a special commemorative exhibition at Westminster Hall.
It charts events from 1912 and plans are being made for it to travel to Dublin and Belfast.
Mr Paterson said it showed it was "possible to commemorate events in a balanced way that reflect different perspectives of history".
Earlier, the Prime Minister David Cameron, said the legal review into the murder of Belfast solicitor Pat Finucane should be allowed to do its work.
He was speaking after meeting Mr Kenny in Downing Street.
The two men were meeting to agree a joint statement of co-operation over the next 10 years.
The two governments have agreed to work together in a variety of areas - including Europe, the economy and NI.
However, Mr Cameron accepted that on the issue of the investigation into Pat Finucane's death he and the Taoiseach had different views.
The prime minister said the review being headed by the QC, Sir Desmond de Silva, was about getting to the truth. He said: "This is honesty in action."
Mr Kenny said he took a different approach as did the Finucane family and a full independent inquiry should be established.
In their joint statement both David Cameron and Enda Kenny also referred to a series of commemorations which will be marked in 2012 and the years ahead.
Both men said such events should be marked with "historical accuracy, mutual respect, inclusiveness and reconciliation".
"The relationship between our two countries has never been stronger or more settled, as complex or as important, as it is today," they said in a statement.
"We enjoy a uniquely close political relationship, grounded in the progress which we have led together over the last 25 years in the peace process in Northern Ireland.
"We want to ensure that this is a decade not only of remembering but also of looking forward; a decade of renewed and strengthened co-operation between our two countries."