Basil McCrea backs John McCallister for party leader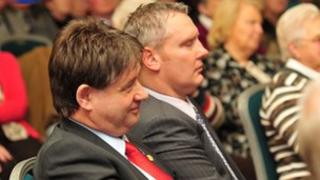 UUP MLA Basil McCrea has told the BBC he will not be seeking the leadership of his party.
The Lagan Valley MLA stood against Tom Elliott for the leadership in 2010 after the resignation of Sir Reg Empey.
Mr McCrea said he would be backing John McCallister to be the next person to lead the Ulster Unionist Party.
The UUP assembly group deputy leader declared his intention to stand in the contest to replace Mr Elliott as party leader on Tuesday.
In a statement, Mr McCallister said he was an "unashamed liberal progressive unionist".
Fermanagh MLA Tom Elliott announced on Thursday that he was stepping down.
Mr McCrea said the party needed to consider its future, get clear blue water between it and its electoral opponents and offer the people of Northern Ireland something different.
Mr McCallister said if he was elected he would announce that the Ulster Unionists would form an opposition to the Stormont Executive.
He rejected suggestions that the Ulster Unionists "float" into the DUP's orbit.
He argued that without an opposition, Stormont would become nothing more than a "cosy club" for politicians.
He said going into opposition at Stormont would be "one way to rebuild the party, to reconnect with the voters who have moved away from us".
'Robust scrutiny'
"I want to set out a clear distinct agenda for the Ulster Unionist Party... where people can vote on the issues instead of turning every election into a border poll," he said.
"You need robust scrutiny of government and that's what I would provide if I am elected as leader.
"I believe passionately that you need a better system in place."
On Monday, sources close to the Regional Development Minister, Danny Kennedy, said he would contest the leadership.
They said he had "very clear majority support" within the Ulster Unionist assembly party and "substantial support" from the party's peers and the MEP, Jim Nicholson.
BBC Northern Ireland political editor Mark Devenport said: "With Mr Kennedy keen on unionist co-operation, and Mr McCallister forthright in his intention to go into opposition, the battle lines in this contest are clear for all to see."
Candidates have until Friday to hand in their nomination papers, with the leadership election due on 31 March.
It is also thought that MLA Mike Nesbitt may be considering standing for the UUP leadership.