Bailed man banned from army bases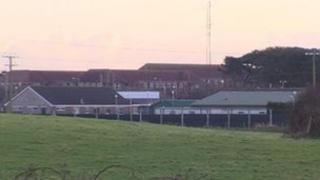 A man facing terrorism-related charges must not go within a mile of any police or military base in Northern Ireland, a High Court judge ordered on Wednesday.
Ryan Lavery, 27, of Ballymote Park, Downpatrick, is accused of possessing or collecting documents which may be of use to terrorists.
Arrested in January, police said his computer had photos of vehicles coming in and out of Ballykinlar Army Base.
Mr Lavery was granted bail, but was also banned from entering Downpatrick.
The only exception was to enable the accused to report to police three times a week.
Mr Lavery is also charged with having a list of vehicle registration numbers.
During a previous hearing a defence lawyer denied the accused had any links with terrorism or illegal organisations.
He was instead described as a "a loner, an anorak and a trainspotter".
Mr Lavery was also banned from using or possessing a computer and told to surrender his passport.