Mike Nesbitt to launch UUP leadership bid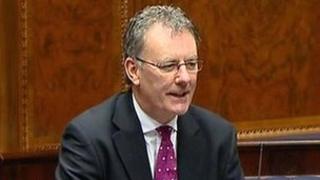 Mike Nesbitt is to launch his bid for the UUP leadership formally later.
The Strangford MLA is due to open his campaign at Stormont on Thursday.
John McCallister and Danny Kennedy will also contest the leadership of the party.
Mr Kennedy is expected to launch his leadership bid on Friday. Lagan Valley MLA Basil McCrea has told the BBC he will not seek the UUP leadership, but will back Mr McCallister.
Candidates have until Friday to hand in their nomination papers, with the leadership election due on 31 March.
Mr Nesbitt's supporters said he had received the backing of four MLAS , two peers and a number of young unionists.
Last week, Tom Elliott announced that he would be standing down as UUP leader.