Smithwick: Garda ordered to look for Det Sgt Owen Corrigan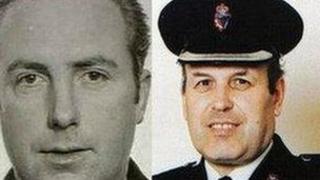 A detective sergeant who was asked to review garda intelligence files for suggestions of collusion was instructed to look out for one name in particular.
Garda Lionel Mullaly told the Smithwick Tribunal in Dublin that he was ordered to search for mention of former Detective Sergeant Owen Corrigan.
The tribunal is investigating claims of collusion in the murder of two RUC officers in south Armagh in 1989.
Chief Supt Harry Breen and Supt Bob Buchanan were ambushed by the IRA.
Sgt Mullaly was working in security and intelligence at Garda HQ in 2000 when an Irish Times article was published alleging garda collusion in a number of IRA murders along the border in the late 1980s.
He told the tribunal he was asked to review all intelligence relating to the murders of Lord Justice and Lady Gibson, the Hanna family and Chief Supt Harry Breen and Supt Bob Buchanan.
He said he was told by then Detective Inspector Peter Kirwan to "look out" for Owen Corrigan's name in the files.
His review of intelligence fed into a report by Inspector Kirwan and Chief Superintendent Sean Camon into the collusion allegations, which found no evidence to support the claims.
Mr Corrigan denies the allegation of collusion.