Abuse driver gets 21 months jail term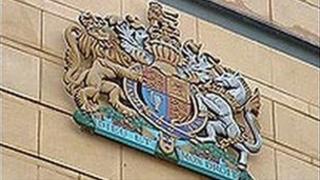 A disqualified driver who spat at and abused police, despite breaking his leg when he crashed a stolen motorbike, has been jailed for 21 months.
Belfast Crown Court heard that even when treated at the Ulster Hospital A&E department in handcuffs, 25-year-old Mark Paul McClure was aggressive.
Staff there were forced to sedate him.
The court heard that police saw McClure driving a stolen motorbike into the grounds of Avoniel Leisure Centre on 1 July 2011.
The officers lost sight of him as he drove around a corner of the building but when they followed him, they found he had crashed it on a grass bank.
A prosecution lawyer added that as they were arresting him for driving offences, McClure became "aggressive and verbally abusive" so they restrained him with handcuffs.
As he was brought to the ground, police noticed blood on his jeans and leg. He had suffered a suspected compound fracture of a leg.
Despite that "serious injury" McClure "continued to struggle with officers" and when he arrived at the hospital, "started spitting at those present," hitting one officer.
"He continued to struggle and eventually had to be sedated," said the lawyer, adding that when interviewed McClure admitted the offences.
McClure, from Edith Street in Belfast, pleaded guilty to aggravated theft of the motorbike, driving while disqualified and without insurance as well as charges or resisting and assaulting a constable.
It was revealed to the court that McClure is already banned from driving until 2018 and has a 13-page criminal record with a total of 84 previous offences, "77 of which are relevant in relation to driving and attitude to the police".
Jaling McClure and banning him from driving for four years, Judge Patrick Lynch QC said spitting at the officers was "particularly repellant" and warned him that with his "appalling record...you must realise that if you continue in this way it will result in protracted periods of imprisonment".