Maternity plans at Mater hospital 'totally unacceptable'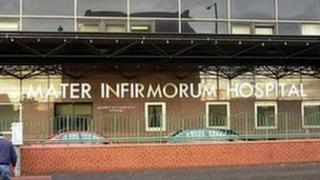 The health union Unison said plans to have a midwifery-led maternity unit only at the Mater hospital in Belfast are "totally unacceptable".
It said the Belfast Trust's proposals for maternity care would mean less choice for mothers.
In a statement, union members said the removal of choice was "not something we can support".
"If these proposals are accepted it could potentially put at risk child birthing mothers," it said.
"We are encouraging all those who could be affected by this proposal to use the period of consultation to make their views known."
There are currently two midwifery-led units operating in Northern Ireland hospitals - at the Downe in Downpatrick and Lagan Valley in Lisburn.