Cyber frontier in fight against crime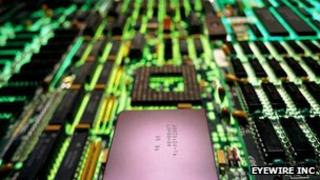 There are new frontiers and frontlines in the fight against crime.
Hackers mount cyber-attacks - mainly by sending viruses into computer systems - countless times every day.
Cyberspace has no borders and is presenting lucrative opportunities for organised criminals, who steal data and electronic cash.
There's an even bigger security issue though.
If ever there is a third world war, circuits and servers could be the battlegrounds.
These are the issues under discussion at Queen's University's second annual World Cyber Security Summit in Belfast.
The keynote speaker is Eugene Kaspersky, a Russian expert who founded Europe's largest anti-virus company.
He said cyber-crime is unfortunately a very successful enterprise.
"Cyber-criminals have a very easy job because they're just software engineers," he said.
"It's very hard to find them so it's a low-risk business.
"They make a lot of money."
According to Scotland Yard, cyber-crime costs the UK economy £27bn per year.
Governments are taking the issue increasingly more seriously.
They are also considering the implications of online weapons being deployed in wars.
For example, electricity grids are often run by computers. So, in theory, one country could disrupt another's power network in a cyber-attack.
But Mr Kaspersky believes this would lead to quick retaliation.
"Using a cyber-weapon is very dangerous because it's a boomerang which will strike back at you," he said.
"It's quite simple to develop it, and very easy to use it - but almost impossible to protect your systems from it."
He declines to answer when I ask him what sort of threat might be posed by terrorists using cyber weapons.
"I'm not comfortable discussing that with the media. I would only discuss that with people with epaulettes on their shoulders," he said.
So it is clear serious matters are being talked about at the summit, held at Queen's Centre for Secure Information Technology (CSIT) in the Titanic Quarter.
The presence of Dr Douglas Maughan, an official from the US Department of Homeland Security, underlines how significant the meeting is.
Dr Maughan said: "Cyber-security is not a national problem, it's international.
"The more we bring the international community together, the better.
"The more minds we can have working on the problem, the better."
Queen's University says CSIT is the leading centre for cyber security research in the UK.
CSIT Principal Investigator, Professor John McCanny, said the meeting was globally significant.
"The summit is unique in that it is a meeting of the minds of cyber-security experts, researchers and government policy makers from around the world," he said.
By running this annual meeting, the university hopes to help achieve a future which is as free as possible from cyber-crime and cyber-conflict.