NI vets in call to USPCA over badger-baiting claims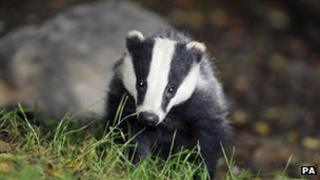 If the USPCA has evidence that vets are complicit in badger baiting they should pass it to the vets' disciplinary body, the vets' association has said.
The group represents vets in NI and was reacting to recent BBC reports on animal cruelty.
Last week the USPCA said they suspected some vets were knowingly treating dogs injured in badger baiting.
But a leading vet said the idea that vets were not reporting badger injuries was "shocking".
Bert Allison, president of the North of Ireland Veterinary Association, said: "If there is evidence that this has happened the USPCA must provide all relevant information to the Royal College of Veterinary Surgeons, which is the statutory regulator of the veterinary profession," he said.
"Veterinary surgeons work under a professional code of conduct to uphold animal health and welfare and care deeply about the animals under their care.
"Under our professional code all veterinary surgeons must provide treatment to alleviate the suffering of an animal presented to them, however, the gangs abusing these animals may be obtaining veterinary care by deception.
"We are contacting our members urgently to offer support and remind them how to report suspected incidents safely and within the law."
It is illegal to kill a badger or interfere with a badger sett but the USPCA believes that as many as 20 gangs are regularly digging badgers out of setts and killing them with dogs.
'Sweeping statements'
The organisation has been mounting a surveillance operation against one gang which is based in Belfast and operates in the County Down countryside.
Another organisation, the Association of Veterinary Surgeons Practising in Northern Ireland (AVSPNI) welcomed the BBC reports into badger persecution but cautioned against "sweeping statements" against the profession.
It said such statements can "tarnish the reputation of all veterinary surgeons and detract from the key issue - that of an illegal and barbaric activity."
Meanwhile, the Royal College has been reminding vets that they can breach client confidentiality where they believe that animal welfare or the public interest may be compromised.
It said: "In cases where discussing concerns with the client would not be appropriate, or where the client's reaction increases rather than allays these concerns, the veterinary surgeon should contact the relevant authorities, for example the RSPCA, SSPCA or USPCA, to report alleged cruelty to an animal.
"Such action should only be taken when the veterinary surgeon considers on reasonable grounds that the public interest in protecting an animal overrides the professional obligation to maintain client confidentiality.