Agency nurse at Royal A&E has not worked since man died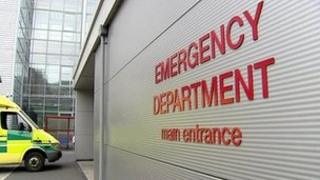 The BBC understands that an agency nurse who works at the Royal Victoria Hospital's A&E department has not returned to work since the Belfast Health Trust began investigating why an elderly man died lying on a trolley.
He had been waiting almost 24 hours to be admitted to a hospital ward.
Nurses have voiced their concern about patient safety.
The health minister is due to announce on Wednesday how he intends to tackle the ongoing problems in the A&E.
They have been escalating since the closure of the A&E department at the City Hospital in Belfast last year.
The nurse was employed by the trust as there were not enough staff to work that particular shift - that is not uncommon.
That particular agency nurse would have been part of a team who were looking after whatever patients were admitted.
As we now know it was a particularly busy shift, patients were lying on trolleys in corridors, in fact it has been compared to a cattle market.
It was chaotic according to a member of the public who spoke to me, with nurses in charge of up to eight patients at a time.
In a ward this would be regarded as the norm, but not in the A&E area where nurses are only supposed to be the first point of contact for patients before they are dispatched somewhere more permanent.
It is not an area designed to treat patients especially for up to 12 - 24, even 36 hours.
As the nurse is employed by an agency, it is likely that the trust will have told the agency that they do not want to employ that nurse again or until after the investigation is concluded.
Within A&E, the BBC understands staff are frightened, even nervous in their role.
They are also frightened to speak-out. Some of them are saying that what happened to the agency nurse could have happened to anyone of them.
Nurses who attended a union meeting at the hospital on Tuesday voiced their concern about patient safety.
In a statement a trust spokesperson said: "We are speaking to a number of staff in the course of this investigation and as a consequence will not be making any further comment until it's concluded."
On Wednesday, the health minister, Edwin Poots is expected to spell out how he intends to tackle the ongoing problems in the A&E department at the Royal.
It is highly unlikely that he will be announcing a huge cash injection.
Realistically there is no extra money, for example, to employ more staff or to erect the new emergency care building any quicker.
Too many people are clogging up the system - people who should not be there.
Mr Poots is likely to look at ways to improve the efficiency of the triage system - that is when a patient arrives and a nurse reviews how ill they are.
Compton Review
Could he perhaps empower nurses in some cases to discharge patients with a minor ailment or create an area for patients who are drunk?
The recently published Compton Review which looks at the long-term plan of improving health care talks about needing the support of the minor injuries unit and GPs in and out-of-hours services.
Could that be rolled out sooner?
The plan needs to speed-up the way in which patients are discharged so perhaps those on ward duty will be asked to discharge patients a lot sooner than before.
There is also the possibility that he will announce an investigation like he did at Antrim Hospital where a so-called support team was sent in to look at how waiting times could be reduced in the Northern Health Trust.
That lasted six weeks with a report expected shortly by the Public Health Agency's director of nursing, Mary Hinds.
The recent problems at the Royal are not the first time that Northern Ireland's A&E departments have been pushed to breaking-point.
On 13 January this year through an email leaked to me, the BBC revealed that several of Northern Ireland's A&E departments were under so much pressure that staff were advised to discharge patients and cancel operations in order to free-up beds.
An urgent email to staff advises of a bed crisis in Antrim Area Hospital and patients waiting on trolleys at the Royal - that email was sent by the director of acute services at the Belfast Trust.
Figures obtained by the BBC on 9 January , revealed that 558 nursing shifts were left unfilled over a four-week period starting from 1 December until the beginning of January 2012.
Thirty-eight of those were in the Royal Victoria Hospital's A&E department.
Whatever Mr Poots does, his plan needs to address the short-term problem.
While the Compton Review looks at the long-term, the clock is now ticking against Edwin Poots.
Squaring the A&E circle is fast becoming his biggest challenge.
He has been in office a year and remember, he is only meant to stay one more year before Jim Wells takes over.
Edwin Poots wants a positive report card - the outcome of the A&E problem might just determine whether or not he gets one.