Chancellor's Budget is announced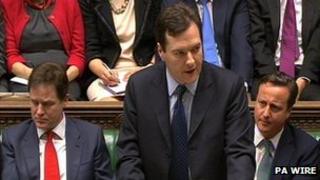 The Chancellor George Osborne has announced his Budget.
Mr Osborne has announced that the 50p top rate of income tax will be cut to 45p from April 2013.
He said the rate, paid on earnings over £150,000, damaged competitiveness and raised a third of the £3bn expected.
The tax free personal allowance will be raised to £9,205. Mr Osborne believes this will give low and middle earners an extra £220 a year.
Child benefit will also now be removed gradually for those earning more than £50,000.
Mr Osborne had planned to axe it where one parent earned over £43,000, but he has decided that it will be phased out when someone in a household has an income of more than £50,000.
It will fall by 1% for every £100 earned over £50,000.
Only those earning more than £60,000 will lose the benefit entirely.