David McNarry hits out at John McCallister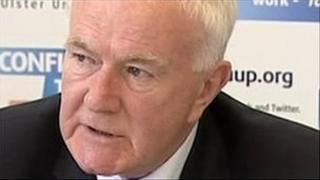 Strangford MLA David McNarry has said UUP leadership contender John McCallister has "exposed his unsuitability to be leader".
It follows Mr McCallister's comments that he would expel Mr McNarry from the party if he is elected leader.
Mr McCallister said the way Mr McNarry had treated outgoing leader Tom Elliott was "appalling".
Mr McNarry said Mr McCallister was "talking out of his hat" on his future.
"He doesn't have the power and he knows he hasn't got the power, but yet he comes off with this kind of nonsense," he said.
"So what kind of a leader is he going to be?"
Mr McNarry said the party was looking for a leader who would demonstrate that the UUP would gain in performance and win at the polls.
"It is not going to bring it about by would-be wannabe leaders picking on people and getting out of their depth if the truth was told," he added.
He said both Mr McCallister and the other leadership contender Mike Nesbitt were "shades of the same so-called modernist faction in the party".
"That leaves a sizeable rump of members who are in the majority and they represent the natural, traditional, progressive ranks," he said.
Mr McNarry said he was determined to clear his name and come through any disciplinary proceedings with his "integrity intact".
He resigned from the Ulster Unionist assembly group in January following a decision by Mr Elliott to remove him as deputy chair of the assembly's education committee.