Sean Quinn contempt of court action begins in Dublin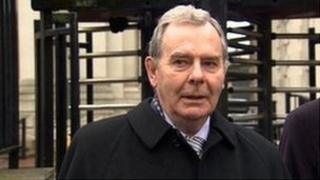 An action for contempt of court taken by the Irish Bank Resolution Corporation (IBRC) against Sean Quinn, his son, Sean Quinn junior, and his nephew, Peter Quinn, has begun at the Commercial Court in Dublin.
IBRC alleges that the Quinns breached court orders, which prevented them from interfering with property assets in several different jurisdictions.
The bank alleges the Quinns were involved in a conspiracy to put assets beyond the reach of the bank.
It says the Commercial Court in Ireland granted injunctions in June and July last year preventing them from interfering with the assets.
But it alleges the Quinns took considerable steps after those orders were granted to strip assets from some of the international companies.
The bank says that these are assets over which it has security in the form of share pledges provided by various members of the Quinn family.
It says if the Quinns are not restrained in these actions, its security will be worthless.
Stripped
Lawyers for IBRC, formerly Anglo Irish Bank, said that if it were to win the case being taken against it by the Quinns over 2.8bn euro in loans, the underlying security against which the loans were given would be stripped of any value.
The Quinns deny the allegation that they breached court orders. They said any steps they took were taken before the Commercial Court granted its injunctions.
The court heard that 20 sworn documents have been submitted on behalf of the bank. It heard that the bank intends to cross-examine Mr Quinn, his son and his nephew.
The bank says Sean Quinn senior and Peter Quinn were the prime movers in breaching the court orders, but it also makes one allegation of contempt against Sean Quinn junior in relation to a Ukrainian company.
The case is expected to last eight days.