Belfast men deny Alliance Party headquarters pipe bomb attack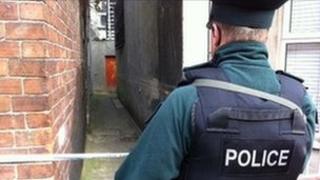 Two Belfast men have denied having a pipe bomb thrown at the Alliance Party's headquarters in May 2011.
Barry Boardman, 43, from Claremont Street, and Francis Peter Carleton, 38, from Cavendish Street, appeared before Belfast Crown Court on Friday.
They pleaded not guilty to possessing an improvised pipe bomb device with intent to endanger life or cause serious injury to property.
They also denied having the device under suspicious circumstances.
A pipe bomb was thrown over the wall of the Alliance Party offices in University Street in south Belfast but failed to explode.
Previous court hearings heard allegations that Boardman was arrested by police as he made his way back to a waiting taxi, driven by Carleton.
On Friday, lawyers for the defence and prosecution said there were numerous issues and applications to be dealt with before the case came to trial. It is due to be heard after the summer vacation.
As the pair were remanded back into custody, relatives in the public gallery waved and gave the thumbs-up signal.