Eastwood firms in administration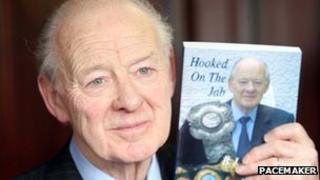 Five property firms owned by the businessman Barney Eastwood have been placed into administration.
Mr Eastwood is best known for his bookmaking chain Eastwoods. He sold the chain, comprising of 54 shops, to Ladbrokes for a reported £135m in 2008.
He had also built up a significant property portfolio using borrowings from Anglo Irish Bank.
The most recent accounts from the firms suggest that they owed the bank more that £100m.
Anglo is now called the Irish Bank Resolution Corporation (IBRC) and most of its property loans have been moved into the Irish's governments "bad bank", the National Asset Management Agency (NAMA).
It is not clear whether NAMA or IBRC appointed the administrators.
The five companies involved are: Wildrose Properties, Wildrose Magheraleve, Wildrose Properties (3), Wildrose Properties (7) and Wildrose Properties (16).
A statement from Fearghal Eastwood on behalf of the Wildrose Group said they had been "taken aback by the unnecessarily aggressive actions of Anglo Irish bank/IBRC".
"We have met all our obligations to them but that does not seem to matter," it continued.
"We are taking legal advice on aspects of their dealings with us."
The companies are understood to own the Tower Centre in Ballymena, a large green field site near Lisburn and prominent commercial properties in Belfast city centre as well as assets in England.
Mortgage documents filed at Companies House suggest that other assets affected by the administration include a building on Donegall Place which houses Boots flagship Belfast store and the building further along Donegall Place which houses a McDonald's restaurant.
An Eastwood firm is also involved in the Castlebawn development in Newtownards but that project is unaffected.
Barney Eastwood was also a successful boxing promoter who worked with Barry McGuigan.