Poots to view plans for £25m health centre in Ballymena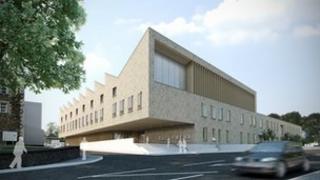 Health Minister Edwin Poots will visit Ballymena, County Antrim, later to view plans for a new state of the art £25m health and care centre.
The new centre will be built on the Braid Valley hospital site.
It will provide a range of facilities including GP services, diagnostic services and community dentistry. There will also be an out-of-hours service.
Funding was announced for the building in July of last year.
Mr Poots said: "This much needed facility will replace outdated accommodation and dramatically improve the provision and delivery of health care and social services to people in Ballymena and surrounding area.
"It will assist in my objective, reinforced in the Transforming Your Care document, of having more care provided outside of the hospital setting."
Primary and community care services are currently provided from a number of locations across the Ballymena area.
Mr Poots said the new centre would "bring together a range of services in a modern, accessible, one-stop facility".
"It is my aim to provide a full range of health and social care services outside the acute sector, in the community closer to where people live or work," he added.
"This allows people to live independently for longer in their own homes, promotes good health, reduces unnecessary hospitalisation, improves chronic disease management and allows for early diagnosis and treatment.
"I am confident that this new facility will allow staff to manage patients' conditions more effectively in the community through the co-location and integration of the GP practices and multi-disciplinary teams."