Robbers looking for rumoured bookies win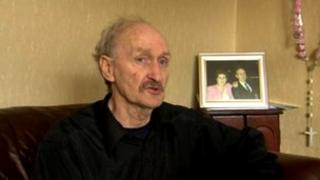 An elderly man injured when three men tried to rob his home believes he was targeted because of a false rumour about a win at the bookmakers.
Brian Hillick, 73, sustained a cut to his head during the attack at Rosapenna Court in north Belfast on Friday.
"After tea I lay down for a nap and woke up with a man holding me down. He said: 'Where's the money'," said Mr Hillick.
"I said: 'What money? What are you talking about?'
"He said: 'The twenty grand. We know you've got twenty grand'.
"Someone has started a rumour that I won £20,000 in the bookies. I might have won £20, but £20,000 - no way."
During this time two men had gone up the stairs of his property to search. They left when Mr Hillick threw a money jar at a window, trying to attract the attention of neighbours.
The men did not steal anything, but as they were leaving, one of them ran into Mr Hillick, knocking him to the ground.
"I hurt my back and my head. There was a lot of blood and I ended up in the Mater hospital," he said.
"I'm ok. I'm hurting a little but I'll get over it."
The men gained entry to the property through a door which Mr Hillick had left unlocked so his children and grandchildren could come and go.
"Don't be stupid like me and leave your door open," he said.
"Lock you door because these are not friends who are walking in."